"Ayana's work is revolutionary in that it forces all of us to confront the images of African women, through her own image, by making compelling historical and contemporary photographs that are accessible to identify with,"
Lorna K. Johnson
said. The principal of
Global Linkages, Inc
, and former director of the
United Way International
Africa and Caribbean Regions, provided the response when asked to describe American photographer and filmmaker,
Ayana Velissia Jackson
, and her work.
Jackson, in collaboration with
Gallery Momo
of Cape Town, recently launched the highly anticipated exhibition,
Selling the Shadow
. Alongside fellow artist
Ingrid LaFleur
[a Detroit-based cultural producer, arts advocate, curatorial director of
AFROTOPIA
], the pair present an international and multidisciplinary exhibition that explores the relationship between art and social practice.
"I wanted to have a conversation around black art and activism, black art and social justice. But also the politicizing of black artists,"
Jackson
stated, breaking down the meaning behind the exhibition's title and what the narrative behind it is. "I am super relieved that the show went well," said Jackson. "People really really liked it, I'm very proud of how it turned out."
Continue reading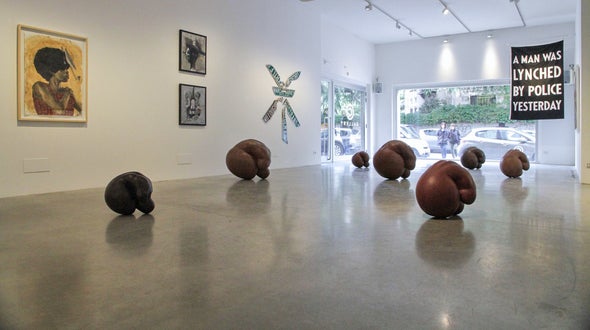 RAFAELE BALLEZZA
Selling the Shadow installation view courtesy of Rafaele Ballezza. (L-R) Robert Pruit, Joel Mpah Doah, Coby Kennedy, Dread Scott. Sculpture by Maimouna Guerresi.