As a retired professional tennis player, coach and program administrator, Lendward "Lenny" Simpson's achievements and struggles have largely gone unnoticed and undocumented.
Dedicated and committed to preserving and making widely accessible his untold personal story, as an unsung African-American tennis player and contributor to the greater tennis community, Simpson has added to the historical record by penning a soon-to-be-released book, In The Shadow of Tennis Legends.
"I knew about Lenny's success as a player and a coach, and I always respected him from afar," said Katrina Adams, the first black president of the United States Tennis Association.
Known for being a tough player while on the pro circuit, Simpson retired in the early 1970s yet continued to compete in American Tennis Association championships winning several national titles in singles, doubles and mixed doubles alongside notable partner and trailblazer, Bonnie Logan.
"If Lenny had just retired quietly from his career as a tennis pro and stayed in Tennessee, he still would have represented a powerful legacy in tennis. But because he has dedicated most of the past decade to the kids of his hometown and they are out making their own change in the world, that legacy will keep sending out ripples long after all of us are gone," said Adams.
Simpson was born in Wilmington, North Carolina in 1948. Growing up next door to Nathaniel Jackson, a highly regard tennis player, and near the tennis court owned by Dr. Hubert Eaton, who at the time was coaching Althea Gibson, Simpson began playing tennis when he was 5-years-old.
Privileged by proximity due to his parents' backyard backing up to Dr. Eaton's property, which boasted a first-class clay tennis court and was known locally as the "Black Country Club," Simpson became enamored with the sport.
"I would hang out and hit against a backboard while Althea and Nate trained with Dr. Eaton," said Simpson, who used his first racquet given to him by Gibson during those early times.
Eaton, Gibson and Jackson recommended Simpson to participate in Dr. Walter "Whirlwind" Johnson's American Tennis Association (ATA) Junior Development Team to develop his tennis talents.
"I became one of the top ranked juniors in the ATA and in what was then called the USLTA, the United States Lawn and Tennis Association," Simpson shared during a recent interview.
"In the early 60′s, I won the ATA National Boys Singles and Doubles Championships. In 1964, I won the USLTA Easter Boy's 14 singles title at Forest Hills when I beat Dick Stockton in the finals. In '64 and '65, I won the ATA Men's Doubles Championship," said Simpson, who attended two of the country's top prep schools, The Hill School in Pennsylvania and Cheshire Academy in Connecticut.
At the age of 15, Lenny became the youngest male to ever compete in the U.S. National Championships at Forest Hills, now known as the U.S. Open in Flushing Meadows.
"When I played my first U.S. Open in 64' at age 15, my parents couldn't even see me come and play, at the US Open in Forest Hills, because Black people could not come to West Side Country Club. My parents couldn't come and see that unbelievable moment in my life," Simpson told the Arthur Ashe Legacy Fund and The Center For Oral History Research's Arthur Ashe Oral History Project.
"I've seen all the greats," Logan shared during Simpson's USTA Southern Section's Hall of Fame induction ceremonies.
"None of them have the kind of spring movement in their legs that Lendward had – and that includes Roger Federer. He was just so quick to the net," said Logan.
Simpson went on to play No.1 singles for three years with Eastern Tennessee State University and was ranked No.1 in the Ohio Valley Conference for three consecutive years.
In 1974, Simpson became the first African American to play World Team Tennis, signing with the Detroit Loves a year after marrying his wife, JoAnn.
Called to educate the world on the accomplishments of African-Americans in tennis, Simpson felt a sense of obligation to carry on the legacies of Jackson, Eaton, Gibson and Ashe. Upon relocating to his hometown, the father of two daughters, Jennifer and Celeste, founded One Love Tennis, a tennis and academic enrichment program for at-risk kids.
"I was able to earn a decent living as a teaching pro but felt that I could make an impact on youth similar to how Dr. Eaton and Dr. Johnson had on me and many others," said Simpson.
"Things have changed for the better with respect to the treatment of African-Americans and other marginalized groups of people within tennis. But we can be better and do better, there's definitely room for improvement," said the elder statesman.
Soon to be listed on the National Register of Historic Places, the "home court" for One Love kids is also home to Simpson and his wife who are caretakers of the property, protecting and sharing the legacy of those who lived, trained and played there.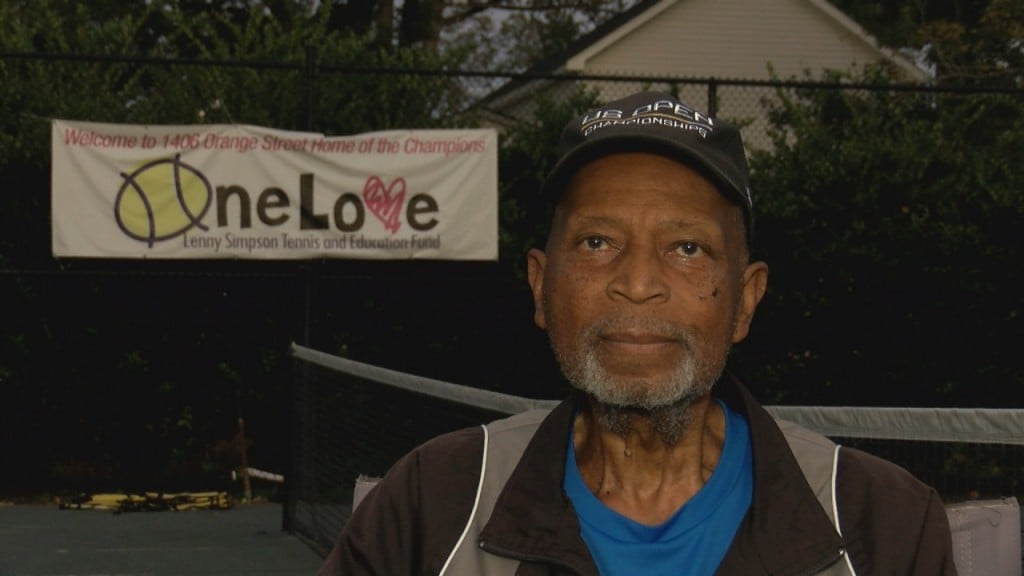 "I so wish that my brother Arthur had lived long enough to see what Lenny created for the kids of Wilmington, North Carolina," said Johnnie Ashe.
"Lenny and Arthur, his "big brother" from those days in Dr. Johnson's summer program, shared a conviction that their tennis success gave them a platform to give back."
"​Lenny was a talented tennis player, and because he is such a people person he was always a success as a tennis pro," said Ashe, a longtime friend of Simpson that shares the same birth year.
"But his latest chapter, which has allowed him to pour a lifetime of hard lessons and triumphs into a program that will teach children values and perspective through the sport he loves, is his best chapter."
"Lenny is making sure that the One Love children know all about the history of black players in tennis, players like my brother Arthur. I'm grateful that through this book, the world will appreciate his important role in that history."